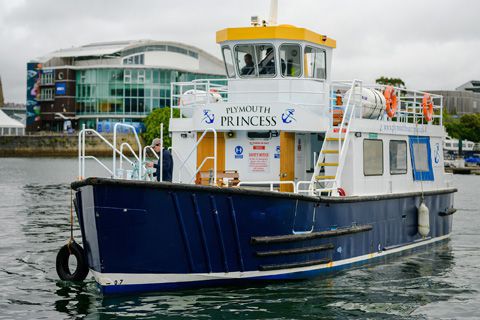 Plymouth Boat Trips launches new modern boat for the Cawsand Ferry route
Jul. 2020
Plymouth Boat Trips has introduced a new, modern vessel to service the famous Cawsand Ferry route. The Plymouth Princess will carry passengers between Plymouth and the scenic, Cornish beaches and villages of Cawsand and Kingsand. Loyal fans of the Weston Maid will be reassured to know that the Red Pig, as she's affectionately known to locals, will continue to run alongside the Plymouth Princess.
During the Coronavirus pandemic, Plymouth Boat Trips introduced a range of measures to ensure safe travel on board, and increased fleet capacity comes as part of that effort. Running at peak times, the addition of a second boat will help prevent queues and provide additional space on board for social distancing.
Designed and built in Cornwall, for the Kingsbridge to Salcombe ferry operation, the Plymouth Princess will offer a smoother, faster journey and more space and comfort, with a seated top deck area, bar and toilet facilities on board.
Owner of Plymouth Boat Trips, Ben Squire said: 'We're very excited to launch this cracking new boat onto the Cawsand run, the voyage itself is a wonderful day out and the Plymouth Princess will add another level of comfort and reassurance for customers, as we operate in the new normal.'
For further information, images, or interviews, please contact:
Sally Bowles, Plymouth Boat Trips Marketing & PR Department.