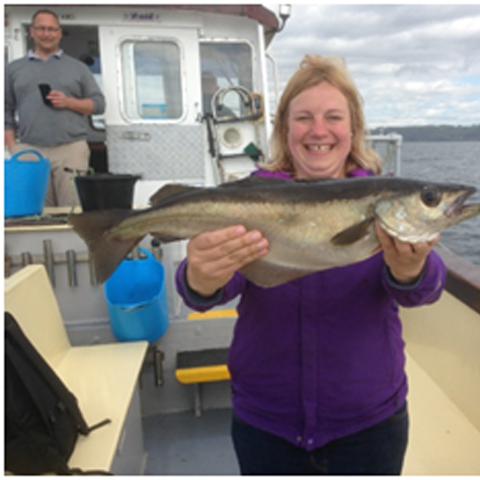 Colder waters this month bring bumper catches for Plymouth Boat Trips
Apr. 2017
Passengers with local boat fishing company, Plymouth Boat Trips, have been delighted to be hauling in some mammoth catches. These 7lb pollocks were caught at the weekend on the fishing grounds just outside of Plymouth Sound.
Skipper Colin Helson says it's all down to sea temperature, expertise and a bit of luck! He commented, 'As the sea temperature is a little colder than usual for this time of year, we're heading away from our usual drop off point to find plentiful fish around the reefs'.
One of the lucky fisherwomen had her prize, pollock catch cooked in The Boathouse Café, straight from the boat and even had enough to share with another happy customer.
Owner and local fisherman Ben Squire said, 'Our guests have been really excited to get a larger than usual tug on the line and now we're coming into a fantastic time of year for fishing trips in Plymouth, the sea temperature will gradually increase and everything comes to life. We soon hope to see some of our more unusual visitors, such as the bonito and the Spanish mackerel'.
For more information on how to book a trip visit: www.plymouthboattrips.co.uk or call 01752 253 153