Summer Sundowner Cruises Information
SUMMER SUNDOWNER (1 ½ Hrs)
This is the essential start to your summer evenings. Whether winding down from work or before your evening out, step aboard our Summer Sundowner Cruise – sit back with a complimentary glass of prosecco or bottled beer & relax, taking in Plymouth's stunning coastline views.
Fully equipped luxury vessel, with toilets and a Licensed Bar on board.
Adults: £9:50 / Child: £5:50 / Family: £25:00 (2A & up to 3C)
Tickets include a free drink
Book Online Now >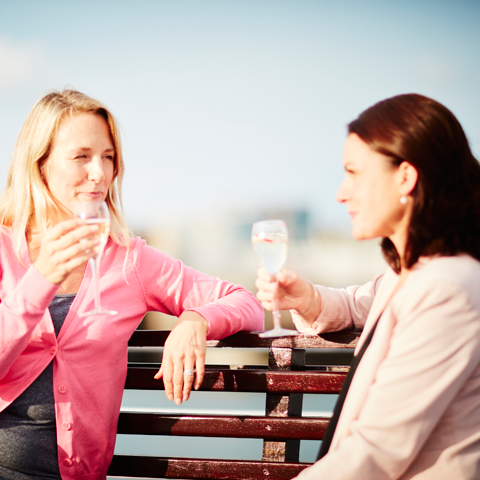 ---
Summer Sundowner Cruises Timetable
Click on Timetable for a printer friendly version
Book Online Now >
Summer Sundowner Cruises How to Book
All scheduled Trip Dates are listed on the Timetable page.
Please book your tickets early to avoid disappointment through our secure online booking system by clicking here.
Book Online Now >
What our customers say...
"Thank you to the Cremyll Ferry for all your support of Fourlanesend Community School. We use your service with the children at various points in the year. This helps us deliver our unique curriculum and we always appreciate the help you give us. Thank you for being part of our success!"
Rebecca Norton, Head Teacher Fourlanesend C.P. School
"I thoroughly recommend Plymouth Boat Trips. They welcome everyone and I'm sure that anyone who uses them will have a wonderful time."
Theresa Burt, Ask4All
"For the past 8 years, we have used Plymouth Boat Trips to host our event watching the British Fireworks Championship in August.  Our event has been hugely popular each year, which is no doubt thanks to Plymouth Boat Trips' excellent hospitality.   
We cannot recommend Plymouth Boat Trips enough! Thank you again for your faultless service year after year!"
Hannah Jackson, Hulley & Kirkwood Consulting Engineers Ltd
"I thoroughly recommend Plymouth Boat Trips! As a support group for people with disabilities and their families we have been organising activities for over 16 years. One of our favourite events is with Plymouth Boat Trips, cruising the Tamar whilst enjoying a disco!  They welcome everyone and I'm sure that anyone who uses them will have a wonderful time."
Theresa Burt, Ask4All
"We use Plymouth Boat Trips every year for a celebration at the end of the academic year. We are always very well looked after by the crew. It makes for a great celebration at a very competitive price."
Diane Henderson, Assistant Vice Principal, Marine Academy Plymouth
Connect with us

---
Latest News
Cremyll Ferry Announces Changes To Fares - 03/09/2018
Plymouth Boat Trips Ltd, operator of the Cremyll Ferry is introducing fare rises, from Monday 17th September 2018, taking
Read more...
Plymouth Boat Trips teams up with the wine experts at Le Vignoble for an exclusive cook your catch and wine pairing experience at Royal William Yard, Plymouth - 20/07/2018
Local Plymouth businesses, Le Vignoble and Plymouth Boat Trips are offering the ultimate seafood dining and wine tasting experience,
Read more...
Deal signed to take over Royal William Yard Marina - 01/03/2018
It might be covered with snow at the moment, but in a few months time the sun will be
Read more...
Cremyll Ferry Announces New Extended Service - 30/11/2017
Plymouth Boat Trips has announced an increased weekend timetable for its hugely popular Cremyll Ferry crossing. From 1st December
Read more...